The Nepalese (or Gurkhas) are a fun loving, multi-religious and multicultural community spread over a
vast majority of Nepal and parts of North Eastern India namely, the State of Sikkim, Assam and the
District of Darjeeling and Kalimpong.
The food that we eat plays a pivotal role in defining our origin, identity and culture. Nepalese cuisine is
affected by a number of factors such as ethnicity, lifestyle and climatic conditions. However, there are a
few staple eats that occupy a special place in the heart of Nepalese all over the world. They are taken
over by an overwhelming wave of nostalgia and sentimentality everytime they're reminded of it.
Read on to find out about them!
Momo is a form of South Asian dumplings. It is prepared from a mixture of wheat flour and water
dough, filled with a wide variety of minced stuffings ranging from cabbage, soybean, carrots and
cottage
cheese to non-vegetarian options like pork, buffalo, chicken and beef.
They are usually steamed in a vessel, called mucktoo, designed especially for the preparation of the
dumplings. Often served with extra spicy red chilli and tomato sauce (called achaar), luscious
momos
are one of the most popular Nepali fast food all over the world.
Kheer is a popular dessert among the Nepalese and is prepared for feasts and celebrations. It is a type
of rice pudding, made from rice boiled in milk with sugar or jaggery and flavoured using cardamom,
cinnamon, and cloves. It is often garnished with raisins, almonds and cashews.
Surprisingly, kheer and aloodum make for a heavenly combination in Nepalese cuisine. The sweetness
of kheer is delicately balanced with salty, spiced potatoes. In fact, they are often substituted for a meal.
Kheer can be served hot or chilled.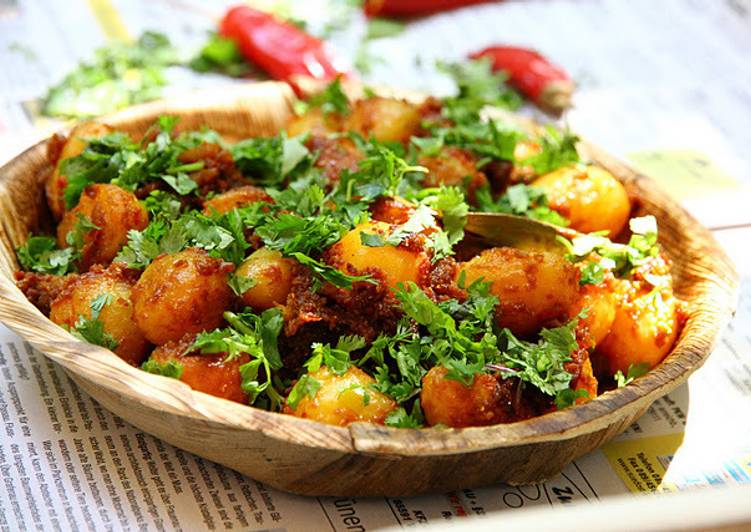 Aloo dum is a potato based dish, usually served hot and extra spicy. Although this dish is popular in other
parts of India, Nepalese style aloo dum differs in preparation and has a charm of its own.
Paired with the delicate, fluffy puris, they make for a mouthwatering combo and is a must-have in any
Nepali festivity. The combination of aloo dum and bhujia or wai wai is scrumptious and is a popular
ready to eat food in the region.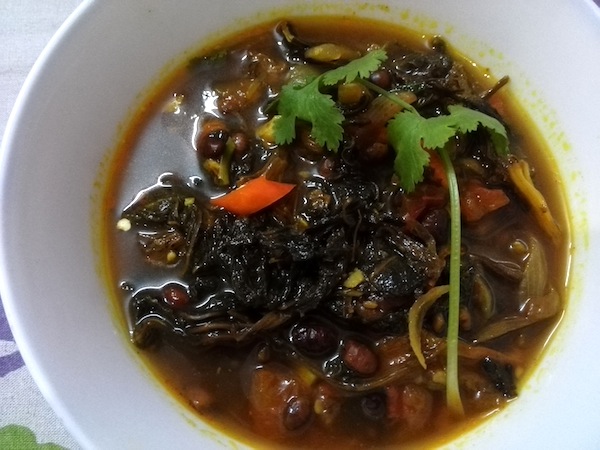 This is a special delicacy typical to Nepalese and is claimed to be one of the national dishes of Nepal.
It is prepared from fermented leafy green vegetables and has a mild sour taste.
Ideal for hot summers, it is either used to make pickles or prepared as a thin soup along with tomatoes
and mashed potatoes. It is served as a side dish with the main meal and is also used as an appetizer.
Churpi is an indigenous cheese prepared in the local dairy or at home in the Himalayan regions. Prepared
from yak milk, it is similar to Italian ricotta. It is available in soft and hard textures- soft ones are used
for preparing savoury vegetable, chutney, or soup while the hard version is to be chewed like a gum.
It is a high source of protein with essential omega 3 fatty acids and actually contains a higher level of
healthy fats compared to cow's cheese.
6. Sidra Ko Achar (Dried Fish Chutney)
Sidras are small fishes, similar to Anchovies, found in the Eastern Himalayan regions of Nepal, Sikkim,
Darjeeling, and Assam. They are popularly used to prepare traditionally processed sun-dried, salted
fish products. Sidra ko Achar is one of these delicacies, and it is used as a side dish to compliment
our traditional dal-bhat-tarkari.
These dried fishes are mashed and garnished with onion, charred chillies, and spicy chillies.
Seasoned
with salt, turmeric, cumin and coriander powder, they are an all-time favourite.
Sel Roti is a sweet, ring-shaped homemade Nepali doughnut. It is prepared with a semi-liquid rice flour
dough, flavoured with sugar, ghee, butter, cardamom, and cloves. It is then poured in a ring shape on hot
oil and fried until they turn light golden on the outside that gives way to a soft, spongy interior.
This fine confection is prepared for important Nepali festivals of Dashain and Tihar and is often sent as
special gifts to relatives and family members living away from home. Sel Roti is also an essential food
in
weddings and other jubilant ceremonies.
Thukpa is a comforting noodle soup that is served hot and spicy, preferably during cold winters. Egg
noodles are generally used for its preparation. They can be cooked along with vegetables or shredded
meat. It is flavoured using charred chillies, ginger, garlic and soy sauce that gives it an authentic taste.
Easy to prepare, thukpa doesn't need a special occasion to be prepared. It can be had for lunch, dinner or
as an evening snack when hunger pangs in! Super healthy and utterly delicious, thukpa is a comfort food
Kinema is a native fermented soybean dish which can be either had with rice or as a side dish with roti or
bread. It is often prepared at home but can be availed in local markets too.
Sticky in texture with a desirable pungent odour, it is either obsessively loved or extensively hated. There
10. Sadeko (Shredded Food)
Shredded food is actually a method of food preparation often done with salads, soybean, wai-wai and
potatoes. The ingredient is first ripped into small pieces(shredded) and mixed with lots of chillies, spices,
raw onions, fresh coriander and oil (preferably mustard oil).
Easy to prepare, it gives a zesty taste that feels invigorating and is often served as a quick snack or as a
side dish with chilled alcohol.






Kersha is an aspiring blogger and freelance writer.

She

enjoys writing on all things related to fashion, travel,




and

wellness. Her hobbies include

reading, cycling,

and

birdwatching.
If you enjoyed reading it, Please hit the Like button. Would be really appreciated.