There's nothing quite more romantic than a beach wedding with a nice, soft breeze blowing, waves splashing gently in the background and a beautiful, blue sky as a backdrop. With so many gorgeous beaches to consider, it can be difficult to narrow down the top locales. Taking into consideration location, beauty and romanticism, below are the 10 best beach destinations for your wedding.
When it comes to upscale and high-end, there's almost no place that personifies these descriptions more than Malibu. With nearly three dozen picturesque beaches to choose from, you have an assortment of options for the wedding of your dreams. Since some of them are private, do your research ahead of time to choose the right one.
Santa Monica's website
describes itself as "the heart…and soul of Southern California," which is apparent in its iconic beach that just screams "pick me" for the perfect wedding destination. Well maintained and with ultra soft sand, Santa Monica Beach can add a special charming quality to any beach wedding.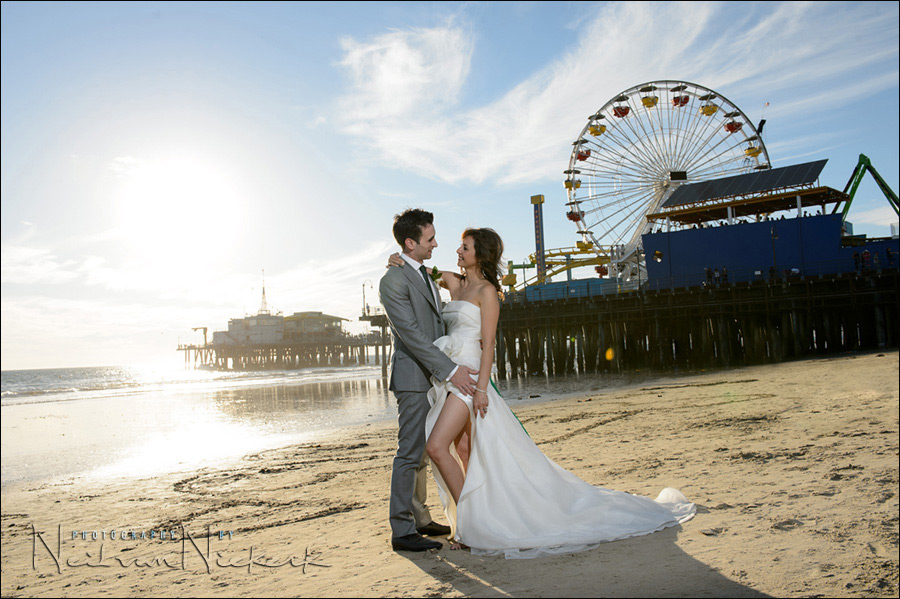 Mile after mile of beach perfection dots Hilton Head Island. A region of South Carolina, Hilton Head has historically been known to have some of the most pristine beaches in the country with perfectly warm water and great weather. The island specializes in intimate wedding affairs, so any beach wedding here is sure to leave lasting memories.
Sultry and sexy with just the right amount of heat, Miami is the perfect destination for a romantic wedding. South Beach is known for its beauty with dazzling water and its tourist-friendly attractions like world-class restaurants, hotels and boutiques. Being trendy and chic just adds to its allure and captivating nature.
Hawaii is synonymous with being romantic and Oahu lives up to that motto. This island has some of the most beautiful beaches on the planet and is rich in culture and natural beauty. Also known as "The Gathering Place," it's no wonder that so many couples make a bee line to this paradise.
Another fantastic Hawaiian island for a beach wedding is Maui. One of the most revered islands in the world, the beaches feature phenomenal cloud formations, extraordinary breezes and diverse topography with extensive rock formations. Warm sunshine and tropical temperatures make Maui one of the best destinations for a romantic wedding.
Situated on the Yucatan Peninsula, the ever-popular

Cancún

is the ideal beach wedding get-away. Not only does it feature some of the world's finest powdery, white sand beaches, but its turquoise-colored water is always inviting. As a top tourist draw, Cancún will provide plenty of warm and attentive hospitality to any wedding party.
Another south of the border delight is Cabo San Lucas, which is located on Mexico's Baja California peninsula. Considered a top 5 Mexican tourist attraction, Cabo would make the optimal locale for a beach wedding. With fantastic weather, clear, blue water and plenty of resorts to choose from, Cabo San Lucas can complement any wedding in style.
Nothing says romantic and luxurious like a beach resort on a private island and that's what you'll get on the Caribbean island of Petit St. Vincent. Featuring nothing but small cottages and villas, you and your guests will be in a secluded paradise before, during and after your ceremony. White sand and sparkling blue water make this beach heaven on earth.
Another private beach exclusively for weddings, Honeymoon Beach is on Peter Island in the British Virgin Islands and is just as romantic as it sounds. The beach is designed for small, intimate affairs. If you're looking for something bigger, you have a total of five white sand beaches to choose from for your perfect day like White Bay Beach, which is perfect for larger affairs.
The perfect wedding destination can effectively bring couples closer together, especially for those who have been
separated by distance and technology
. The perfect location can bring the right amount of romanticism and intimacy to lay the foundation for a successful marriage. With these top beach destinations, a dream wedding no longer has to just be a dream, but can now be a reality.
If you enjoyed reading it, Please hit the Like button. Would be really appreciated.