The divine city of Mathura, usually coupled as Mathura-Vrindavan, is the abode of Lord Krishna. The city has been a sole eyewitness and home to the almighty's birth, childhood, and seen some of the most awe inspiring divine spectacles. Today, Mathura is one of the holiest cities that holds quite an important stature in Hinduism. Barely a 3 hours' drive from Delhi, Mathura is one of the favourite religious getaway of North Indians. Take a look at the city's splendour.
For a soul stirring road trip or a religious excursion from Delhi, Mathura is like an oasis in the desert. Krishna devotees swear by this city's vast expanse of holy grandeur and Mathura holds a very critical spot in the Hindu religion. One can easily find a New Delhi to Mathura taxi to get to this city with ease and less hassles.
1.
Krishna Janma Bhoomi Mandir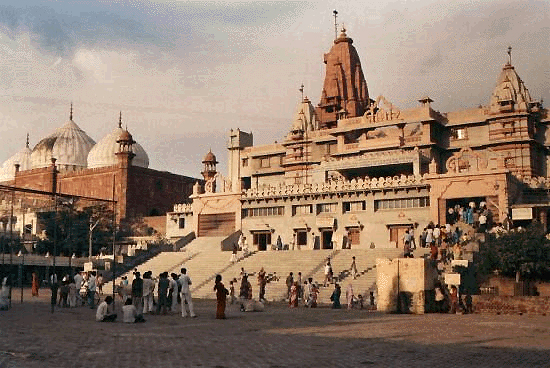 This is the exact spot where Lord Krishna took birth. It was a prison cell where the almighty came down on Earth in a superhuman avatar, and today this underground prison cell is replaced by the Krishna Janma Bhoomi Mandir. Thousands of devotees and tourists flock to this place every year. The best time to visit this temple is during the time of Janmashtami and Holi when the festive fervour is at its prime.
2. Dwarkadhish Temple
This temple was established 150 years ago by a Krishna devotee. The place is famous for its Swing Festival at the start of the Monsoon Season. The striking feature of this temple is the idol of Lord Krishna here which is sans his signature peacock feather and flute. It is depicted here more as the "King of Dwarka" pose and look.
3. Gita Temple
The holy book of Hindus, Gita, is a rendition of the lessons and shlokas that Lord Krishna preached to Arjuna on the battleground of Mahabharat. These holy verses of Gita are now inscribed on a red pillar in the garden of the Gita Temple. The temple is easy to spot since it is located on the road that leads to Vrindavan.
4. Radha Kund
Radha Kund is the spot where Krishna slew a demon bull. The kund or pool here is said to have been formed by Lord Krishna who struck this spot and water started to gush out of here. This place sees an ambush of thousands of pilgrims every year, and is a must visit spot for Vaishnavites in India.
5. Govardhan Hill
According to the Hindu mythology, Lord Krishna had once lifted this mammoth size hill on the little finger of his hand to defeat Indra, the Lord of Rain and Thunder. This site is located near Vrindavan and is famous amongst the tourists who visit it for a better insight into the Hindu beliefs, mythology and stories.
So, on your next weekend, instead of a fun trip to the hills, why not head for divine and relaxing jaunt to the holy city of Mathura? Take a
New Delhi to Mathura cab

or simply drive your way to a joyous road trip, a different one indeed!
If you liked this post or the post was helpful, please click on the LIKE button. Would really be appreciated