As the majority of the world is celebrating their cold and snowy Christmas in December, countries located in the southern hemisphere are going through hot and steamy summer. Yes, its also Christmas in the summers. New Zealand as it is located in the southern hemisphere, it is summer in December, which means there is no snow, no fire but loads of sunshine.
Because New Zealand is located in the southern hemisphere, Christmas is celebrated in the summer like Australia and South Africa and this actually makes it a little weird for people in the Northern Hemisphere, but also interesting and amazing. Why? Check why Christmas in New Zealand is just so awesome
1. Santa Claus isn't cold and with warm clothes but is actually really cool enjoying the summer heat.
2. Santa riding a flying reindeer dashing through the snow is too mainstream. Why not kayak right?
3. Why build a snowman when you can build a sandman.
4. Great Day, Amazing Decorations and Our Christmas Tree is Like This
5. How Can a House Look great with a snowy Christmas? Well, it can in New Zealand.
6. The Christmas Parade in the city of Auckland looks like this.
7. When Santas gather in New Zealand? Summer and the beach. Hell ya!
8. And having fun in Christmas? Why not go to the beach and get the perfect tan.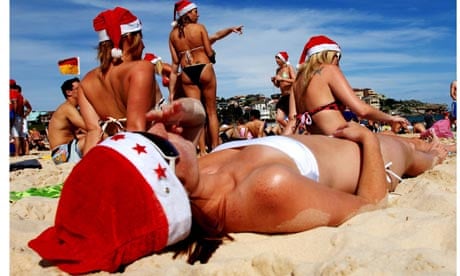 9. White Christmas in overrated,
10. And its not just the sun that makes it hot.
11. Our Santa Claus never gets out of style.
12. Family Christmas is different here yet awesome.
13. It's just here you can just go out and enjoy the outdoors in Christmas.
14. Never seen Santa so happy.
If you liked this post or the post was helpful, please click on the LIKE button. Would really be appreciated