Guess what's common between Rakhi Sawant and Indian Politicians? Loads of drama, talks that makes no sense and bizarre statements that deserves a slow clap. But out of all those dramas left behind, just imagine what if the self acclaimed media ki beti, was appointed the Prime Minister of India then what would happen?
1. Sunny Leone Permanently Banned and Deported from India: There has been a lot of controversial statements that Rakhi Sawant has laid on actress Sunny Leone. She has made bold statements saying Mahesh Bhatt signed Sunny Leone only for nudity, and made bold statements saying, 'Sunny Leone get lost from my India'. So Rakhi as the PM of India would totally mean Sunny Leone completely banned from India.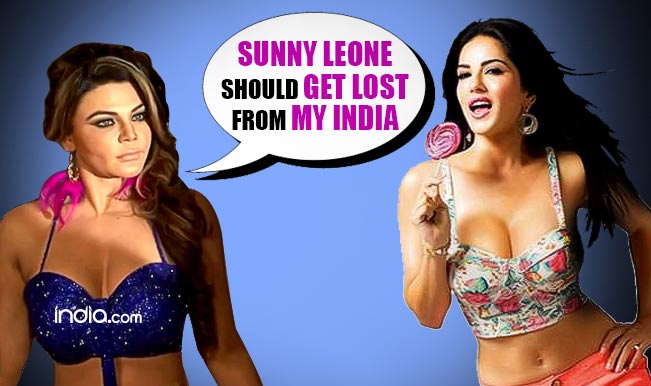 2. Strict and Stupid Copyright Infringement Rules: Rakhi Sawant has claimed to the media of stealing almost everything from here by other actors and actresses. She publicly made a statement that Aamir Khan's show 'Satyamev Jayate'
was a concept stolen from her show 'Rakhi ka Insaf.' She even made accusations that the new age Bollywood actresses are stealing dance moves from her like Katrina Kaif stealing dance steps from her in her item song 'Chikni Chameli' and 'Sheila ki Jawani.' So what if Rakhi Sawant enters politics ? Well, there would definitely be copyright infringement rules in almost everything, no matter how stupid it is.
3. NO ENGLISH PLEASE: English would definitely not be an official language in India and every political meeting would be done in Hindi. Why? You know why Rakhi Sawant would want that, don't you?
4. Free Medical Care When it comes to Cosmetic Surgeries and Enhancements: Remember that episode of Koffee with Karan where Karan Johar was left speechless when Rakhi Sawant said, 'Joh Bhagwan nahi deta, woh doctor deta hai!.' The common Indian public would all want better medical facilities and care and Rakhi Sawant as the Prime Minister of India would definitely work on that by promoting and giving free cosmetic surgeries and enhancements.
5. Babas and Saints Would Enter Glamour and Maybe Become a Ramp Model: It would be quite impossible to even think of it, but in an alternative world where Rakhi Sawant is the PM, this is quite possible. Rakhi has made statements about how he finds Ramdev Baba hot and she would love to marry her gives us a lot of light regarding this. She definitely did say how sexy Ramdev Baba looks with his flat tummy which I suppose no one in their right mind would agree, right?
6. No Kissing and Public Display of Affection: Rakhi Sawant would totally be very strict when it comes to kissing and public display of affection. We haven't yet forgotten how the publicity thirsty Rakhi Sawant created a huge controversy about a kiss with Mika Singh. So apparently as she believes, a bharatiya nari shouldn't be like that and she would be really strict to all the bharatiya naris regarding that.
7. Salman Khan Would Be a Flop Actor: Rakhi Sawant had had a hate relationship with Salman and how she made bold statements about him and him not voting her in an election. She even said that Salman Khan should do 'dadagiri' only in his films. So apparently Rakhi Sawant as the PM of India would mean her making sure there is no films that releases which has Salman Khan associated with it.
But luckily, how bad the political conditions in India is, it hasn't be so bad as to appoint the drama queen, Rakhi Sawant as the Prime Minister of India. But let your imagination flow and do comments more below, what would happen more if Rakhi Sawant would be appointed as the Prime Minister of India.
If you liked this post or the post was helpful, please click on the LIKE button. Would really be appreciated