When one thinks about love stories and romantic movies from Asia, one is inclined to think that Asian movies is all about Korean or Japanese movies as the romantic film industry in Korea and Japan has done real well. But let me help you try something out of the box and inform you about some amazing love story movies from the Philippines.
Pinoy movies which is mostly based in Tagalog and English are incredible and when it comes to romance in their movies, the results have been great too. Here are the list of the top romantic Tagalog movies from the Philippines:
1. She's Dating a Gangster: A
love story based on two alternative time frame, a son is being told the story about his father and his lover when they were young. Kenneth Delos Reyes, played by Daniel Padilla meets Kelay Dizon, played by Kathyn Bernado, who tells him the story about his father, Kenji Delos Eyes and her aunty, Athena Dizon played by the same respectively. An amazing love story movie released in 2014 from the Philippines and in Tagalog and English. Check the review here
She's Dating The Gangster: Filipino Movie Review
2. Starting Over Again:
A love story movie, starring Toni Gonzaga and Piolo Pascual. The story is about two lovers who break up and then meet each other after several years. Then comes an awkward moment in their lives and how they try to start over again with their relationship. An incredible Pinoy movie about love, break ups and starting over again. Check the review here
Starting Over Again - Filipino Movie Review
3. Crazy, Beautiful You:
Another amazing romantic Pinoy movie starring Daniel Padilla and Kathyrn Bernado, Crazy Beautiful You is a story about a girl who is arrogant, rude and crazy takes a break as her mother wants her to spend some time in helping in community service and then she meets him and how their life changes. The chemistry between Daniel and Kathyrn has always been amazing in all the movies in the Philippines and this one is another amazing Pinoy movie.
4. One More Chance:
Where there is love and romance, there is also heart breaks and break ups as well. Another Tagalog movie about heart breaks and breakups and how One More Chance to the relationship has been taken and the story follows. A movie, that has been a hit worldwide from Philippines, One More Chance is a must watch if you enjoy love stories and break ups.
5. When The Love is Gone:
Love, Affairs, Sex, Lust and Break ups. That's what goes around life. When The Love is Gone is a story about a married couple, where the man finds another woman and starts this secret affair. The story is also based on their daughter who falls in love with a boy and then a twist in the story with more complications. A Filipino movie based on love, sex and affair is a must watch for full on twist and turns in the plot.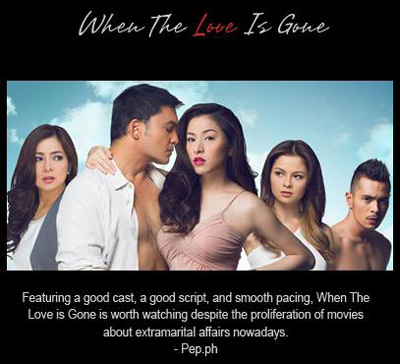 6. Maybe This Time:
This movie is a really cute, romantic and affectionate movie based in the Philippines. The plot of the movie is about a couple, played by Sarah Jerenimo and Coco Martin, who break up and meet each other after years and then a long new twisted story about how Maybe This Time something would happen. The movie is quite similar to the movie Starting Over Again though quite different again in some ways, details of which is written here
Starting Over Again VS Maybe This Time: Similarity, Difference or Copy?
7. Must Be Love:
The power couple, Daniel Padilla and Kathyrn Bernado always seems to be doing great when it comes to with coming out with excellent romantic movies in the Philippines and this one is another one. Must Be Love is a story about two best friends, played the Daniel and Kathyrn who grew up together and were always friends suddenly when both start feeling for each other. But the story always has a twist and then comes the third one and the story continues in its twisted ways. This one is a cute love movie in Tagalog and is a must watch as well.