A resume is the key of a successful job application therefore it is very important to write a better and successful resume when applying for a job. Hence, it is essential to know what to do and what not to while writing and preparing a resume.
Therefore, this article lists out what to do and what not to while writing a resume which may be very important to know while preparing a resume.
Resume writing is not a joke and should be taken seriously while writing and preparing a resume for your job application. It is the resume that forms a baseline when applying and assessing the application of a job, hence a better resume creates a wider horizon to get a job. Therefore, to write a better resume it is necessary to know the thing to do and thing not to while Resume writing which is listed below.
THINGS TO DO WHILE RESUME WRITING :
Make the limit of the resume to a single page when writing a resume. Another page to the resume should only be added if really necessary. The myth that long resume creates a better impression is not true.
Words and sentences in the resume should talk about your deeds and work as action speaks more than words.
The resume should be satisfying to what the employer is looking for.
The resume should be short and upto the point. The interviewer spends just a couple of seconds to go through the resume and does not spend enough time reading each and every word, line by line. Hence, long and lengthy resume should not be made.
A list with brief descriptions about all your work experiences, courses taken, internships, etc should be made. This will highlight every detail properly, creating a better result out of the resume.
Do not overestimate yourself but do not underestimate either. Do write the exact real details about yourself and avoid selling yourself to a price your are not worth.
If you possess any technical knowledge or distinct capabilities, make a list out of it so that it stands out distinctly making the resume well organized.
When you are writing a resume, it should be written in a past tense form even when you are describing about your present job.
White paper should be used for the resume sheet.
Make sure to use only one side of the paper and the other side of the paper should be kept blank.
The print of the resume should be of high quality so that the fonts are clear and legible. A laser print can be used for the best result.
The font size should also be given a consideration so that it does not become too big or too small. A standard size of 10 to 14 is okay.
Use simple font style like Courier or Arial. Stylish and graphic font should always be avoided.
There should not be any spelling mistakes in the resume which would create a negative impression. Therefore, any correction in the spellings should be made before taking out the print out.
When posting a resume, send it in an envelope of large size.
When sending the resume by fax, it should be sent in a fine or super-fine quality. Never fax photocopies of the resume and the original only should be used for faxing.
Always make sure that the resume is delivered or given to the right person.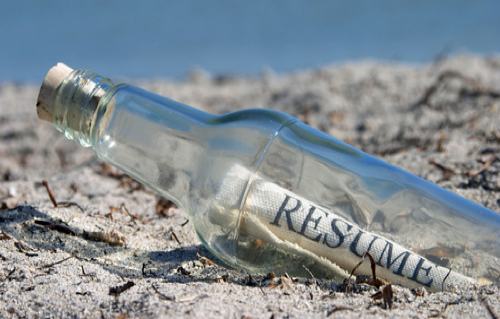 THINGS NOT TO DO WHILE RESUME WRITING :
No decorations and graphics should be added to the resume.
The page used for the resume should not be colourful or with glitters. A plain white page should be used.
Do not use bold, italics and underline features to the font in excess. Use only at appropriate places where it is needed.
Avoid folding and stapling of the resume sheet.
The print should not be made too dark nor too light.
Do not mention data that are not necessary to mention without any purpose.