Oman or let me say the Sultanate of Oman maybe a small country in the Middle East, that maybe most of you may not have even heard about but I say you should go visit as soon as possible. Why? Let me tell you why
1. Let me start by saying, its amazingly, mind blowing, head boggling and earth shattering beautiful.
2. Tons of secluded beaches all over the country, each one beautiful in their own way.
3. The never ending golden desert in Oman, whether for an adventurous desert bash or a desert safari, perfect in its own way to discover it.
4. If you love the ocean, you're in paradise.
5. If you love to drive, it's a paradise for you as well. Whether it be driving off roads or smoothly in the desert highway or in the rocky hills or along the coast.
6. The rocky landscape, the high cliffs and the surrounding mountains will change your ideology for landscape beauty.
7. If the landscape above the ground doesn't amuse you then you may go down below the Earth's surface to discover the beauty of Oman's beautiful caves.
or this one?
8. Not only is Oman a driver's paradise, but also a diver's paradise. Whether it be for adventurous sports like scuba diving or snorkeling, or for discovering the fauna in the sea, there is so much beauty in the water of Oman and inside it as well.
9. Oman has jaw dropping beautiful 'Wadis'. Not sure what a Wadi is? Well Wadi is a valley that is normally dry but during the monsoons after the rain, it is filled with water, forming like an oasis with of water and vegetation. And yes, Oman has plenty of them.
10. The architecture of Oman is not just beautiful but is unique, colorful and reflects Omani design and art in such an amazing way. And not to forget the old traditional Omani buildings, which comes in different and sizes which are just fascinating.
12. If you love shopping, Oman has plenty of modern shopping malls but Oman has souks too. Shopping in Omani souks will be a very different and brilliant experience, with traditional Arab market where there are thousands of items you would love to take home.
13. You would never see more beautiful sporting event than cute Omani kids playing football during sunset at Omani beaches. Yes, Omani are football crazies and playing one in the beaches in fun to play or watch.
14. Not just is the city beautiful, but the city's night skyline is breath taking too. Whether it be taking a look at Muscat city from the hill of Alamirat or taking a glass of Muttrah from the port, the view would be something so wonderful you have never seen before.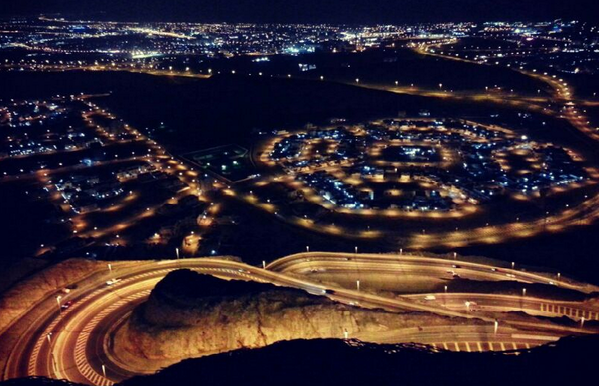 15. The capital city of Oman, Muscat has beautiful mosques at every corner and you would be tired trying to figure out which one is more beautiful. Plus, passing by a mosque at night would be every more better with those glowing lights all over contrasting the city's dark landscape. And not just are they stunningly beautiful from outside but the insides are as well are strikingly pretty.
16. If the landscape, the beaches and the mosques don't make you think its enough then the food will simply amaze you. Trying out Omani dishes of spiced rice and more and more marinated meats are amazing with loads of fresh sea food and you could go for abundant of other Arabic cuisine to try in Oman whether it be Turkish or Lebanese. If you think you can have more, there are tons of International restaurants and eat outs all over the cities and country.
17. As delicious as the food, you should experience the traditional Arabic hookah by the beach.
18. That's not it. Omani fashion and tradition is strikingly beautiful as well. Whether it be men, women and children, their clothes and traditional wears are comfortable, vibrant and reflect their rich culture and heritage.
19. And more beautiful than their clothes are the Omani people. Known across the Middle East and worldwide, Omanis are known to be very hospitable, kind and generous.
20. So when you visit Oman, be assured that you would be welcomed to this beautiful country by people there with their warm and hospitable smiles.